DAWSON
— Mary Quick hit the road in October 2010 in a 1995 hotel shuttle bus that was converted into the Lac qui Parle Computer Commuter, complete with six laptop computers linked to the internet.
She's put on 6,500 miles a year ever after, driving 150 miles or so each week to make stops on designated days in Madison, Dawson, Boyd, Bellingham, Marietta and Nasau. At each stop, she opens the doors, and people are welcome to come aboard and use the computers and learn how to use them and navigate the internet with her help.
It all ends June 30, unless the wheels fall off the bus before then. "We're out of funding," said Quick. There are only enough funds to get to the end of June, but no money for any costly repairs should they be needed, she said.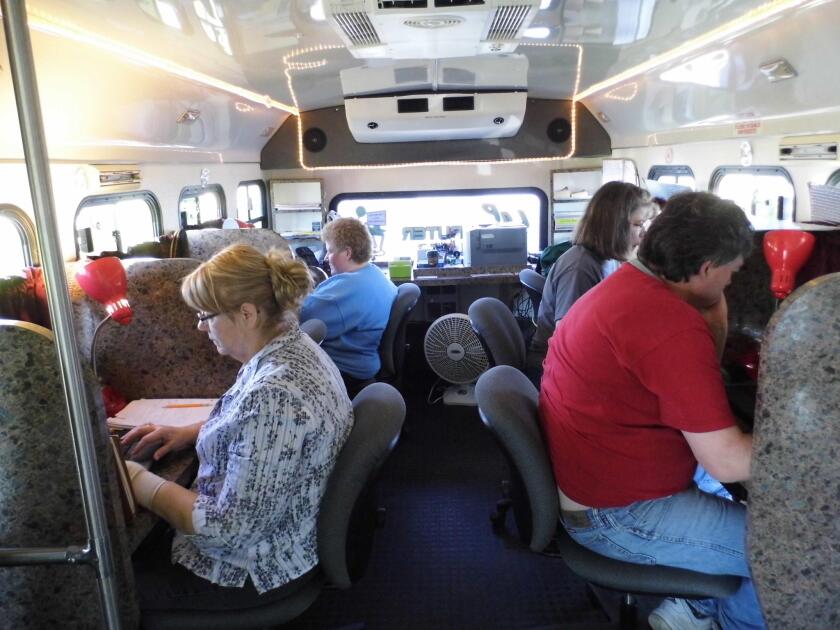 Quick has been the sole driver and computer instructor for
Lac qui Parle County
's unique program since its start. Its mission has been to give rural residents access to computers and technology, and to help increase their digital literacy.
"Over these 11 years plus I've seen how technology is being embraced in rural Minnesota," said Quick.
Many of the Commuter's early users had no computers or internet access at home, she said. Now, many arrive with smartphones if not their own laptops. Most, but not all, have internet access at home.
"It's like visiting a friend," said Pat Craigmile, of rural Boyd, who has been a regular user of the Computer Commuter since its start. A retired teacher, Pat and her husband, Dave, were early adopters of technology and had a home computer well before the Computer Commuter arrived. Pat said the Computer Commuter has provided her with the hands-on instruction she needed.
And, she added, working in the bus alongside others has helped learn so much more by introducing her to all the many different opportunities on the internet.
What many of us take for granted, such as setting up an email account or using Google, were foreign to many of the first users of the service, said Quick. Some came because they wanted to learn this new technology to connect with grandkids and family far away. Others came because they had to: They needed the technology for everything from setting up health insurance accounts and filing their taxes to applying for jobs.
In the first six years, roughly 65 percent of the users were 60 years and older. There were plenty of young adults, and children, who came to use the computers and learn how. About seven years ago, Quick said she noticed a change as computers and home internet became much more prevalent in the county. Now, a greater share of her users, probably 85 percent, are 60 years of age and over.
Support from a foundation originally helped launch the service. One of the foundation's goals was a social one. It wanted to use technology to connect rural residents and reduce the depression that can come with isolation, according to Quick.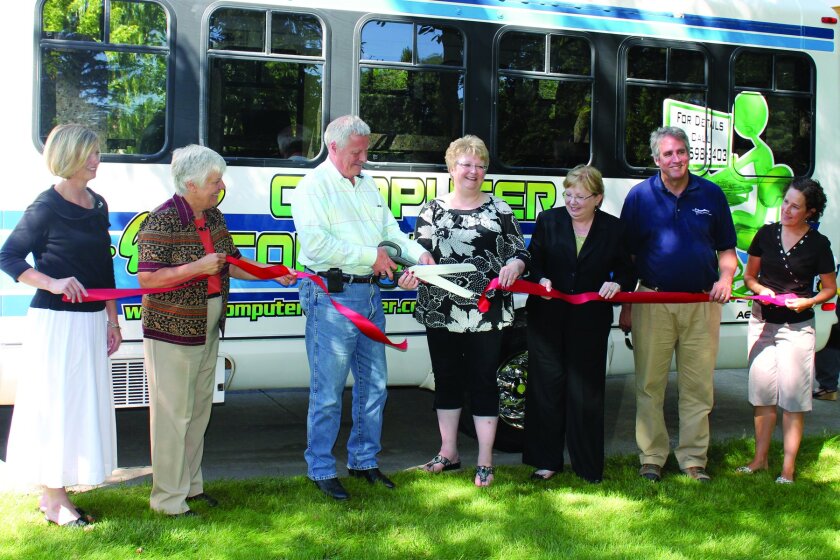 In that respect, she feels the Computer Commuter has done a very good job. For all the negatives that exist with social media, Quick said she's also seen the positive. Grandparents connected with grandchildren. Zoom connections and platforms have allowed her rural patrons to watch their younger family members perform in school bands or plays, or just to chat.
Lac qui Parle County was on the verge of ending the service in 2016 due to a funding shortage. At that point, they learned that a retired teacher and user of the Commuter, Marie Kittelson, left a generous bequest to the program. Kittelson's bequest came with the requirement that it had to be matched. Quick still gets emotional describing how individuals, as well as foundations such as Blandin, came forward to keep the program going.
Quick said the longevity of the program can also be credited to lots of in-kind services that speak to life in rural Minnesota. The in-kind help has ranged from the services of Lowell Tyler, a computer technician in Dawson, to the use of garage space, courtesy of Ag Processing in Dawson.
Not to be forgotten in all of this is her husband, Scott, who has made trips to jump start the bus or help shovel her out of trouble.
Winter driving is the one downside of a job that Quick loves so much. She only stayed off the roads when the schools canceled due to the weather. Otherwise, even in the most bitter cold, the Computer Commuter made its appointed rounds.
It had to, really. There were people waiting for it. "There were times when the weather would be atrocious and the little old lady with a cane would come," said Quick, laughing.
Her worst experience on the road came on a sunny, winter day in Nassau. The winds on the prairie were picking up speed through the afternoon, and were howling with white-out conditions as she left town. "Thank goodness they put those ridges so I knew if I was on the road or not," she said.
The hardest part of seeing the final miles for this journey will be saying goodbye to all those who use the service, she said. While she continues to see new users, there are many, like Craigmile, who are regulars. They've become a community and friends, Quick noted.
Craigmile said her interest in computers and what they offer has only grown, and she hopes to continue exploring. She'll have to learn it on her own, she said. Of course, there's always the option of asking the grandkids for help.
It'll be bittersweet for Quick to end the service, but she said June 30 might be about the right time to call it quits. The bus does not have air conditioning, and she knows well the humidity and temperatures that July and August bring.
"It's been a good ride," she said.
window.fbAsyncInit = function() { FB.init({
appId : '1155092205298742',
xfbml : true, version : 'v2.9' }); };
(function(d, s, id){ var js, fjs = d.getElementsByTagName(s)[0]; if (d.getElementById(id)) {return;} js = d.createElement(s); js.id = id; js.src = "https://connect.facebook.net/en_US/sdk.js"; fjs.parentNode.insertBefore(js, fjs); }(document, 'script', 'facebook-jssdk'));