Google Pixel 6a Intro
The Pixel 6a is the new budget phone by Google and dare we say it changes the rules in the affordable phone market with its Tensor chip, the same one as on the flagship Pixel 6, while most other devices at this price use slower processors. This makes the Pixel 6a not only faster, but more future proof. It also adopts the "camera bar" design styling of its more expensive Pixel siblings, but does all of that in a more manageable, 6.1″ form factor. The dual cameras on the back are a wide and an ultra-wide one, and they deliver the familiar "Pixel look", but this time photos process a lot faster. At $450, the Pixel 6a looks like a serious contender to the popular Samsung Galaxy A53 5G and the Apple iPhone SE (2022).
The Pixel 6a replaces the 5a model launched last year. The 5a, however, was only available in the United States and Japan, so effectively most of the world went without a true Google budget phone for one year until the Pixel 6a, which this time around launches in the US, Canada, and most of Europe.
Compared to the Pixel 5a, the 6a comes with the new design, a much faster processor, making it altogether a far more exciting device.
What's new about the Pixel 6a?
Adopts the new Pixel "camera visor" flagship design
First budget Pixel with powerful Tensor chip
6.1″ screen size is a perfect middle ground
Sticks with older 12MP camera sensor but keeps the "Pixel look"
Faster camera speed
Plentiful 128GB of storage as a base
$450 price
Table of Contents:
Pixel 6a Unboxing
Like so many other new phones, the Pixel 6a ships in a slim box, and you probably can already guess what this means: there is no charger included in this box.
Inside, you will find the phone itself, a cable with USB type C connection on both sides, a SIM tool and the usual user manuals and literature. There is no case in the box and no pre-applied screen protector either.
Pixel 6a Specs
The Tensor chip is the big highlight here
And here is an overview of the Pixel 6a specs:
Specs
Google Pixel 6a
Size and Weight
152.2 x 71.8 x 8.9mm, 178g
Display
6.1″ OLED, 60Hz
Processor
Google Tensor Gen1
RAM
6GB LPDDR5
Storage
128GB, no expandable storage
Software
Android 12
Cameras
12MP wide camera, f/1.7 aperture
12MP ultra-wide camera, f/2.2 aperture

8MP front camera, f/2.0

Battery Size
4,410 mAh
Charging Speeds
18W wired charging
no wireless charging
Price
$450
Having the flagship-grade Google Tensor Gen1 processor in a budget device like the Pixel 6a is unexpected, but absolutely great. The phone feels fast and with this chip it will remain fast for years to come. Plus, it definitely stands out in the crowd of its rivals that typically use far less capable processors.
The Pixel also comes with 6GB of RAM, which feels like a good middle ground, so you can run quite a few apps in the background. An 8GB RAM version would be even better for power users, but we guess that feature will come to the flagship Pixels.
If you want even more information, don't forget that we have a detailed Pixel 6a specs page where you can find the specific 5G bands it supports and a lot more useful details.
Pixel 6a Design & Colors
A pleasingly compact phone with a few compromises like a plastic back
Design is one area where you can kind of tell that the Pixel 6a is not a high-end phone. No, it doesn't look bad, and we actually prefer the smaller 6.1-inch form factor a lot better than the big-ish 6.4″ Pixel 6. We loved it's airy, light-weight feel too, a nice change from bulky modern phones. However, the larger bezels and the plastic back do give away its budget nature.
Google has also nixed a few features that were previously available on the "a" series and the most notable omission in the 6a is the headphone jack, which has been removed. The device is also IP67 certified for water and dust protection, a nice feature to have at this price point. This is just a step below the IP68 rating we get on flagships, but the difference is tiny and what matters is that the Pixel 6a will survive underwater or in the rain for a short while.
The styling is very recognizable. With that horizontal camera bar on the back, you can tell it's a Pixel from a mile away. The camera bar is actually half as thick here on the 6a compared to the Pixel 6, which we do appreciate. Plus, with this design, the phone doesn't wobble when you lay it on a table.
The Pixel 6a comes in a selection of three colors: Charcoal (the black-ish model), Chalk (the white one that we have for review), and Sage (a really nice shade of green). To that we say: finally! Finally, some color to the affordable Pixel lineup that used to come in only one boring black color option!
Pixel 6a Display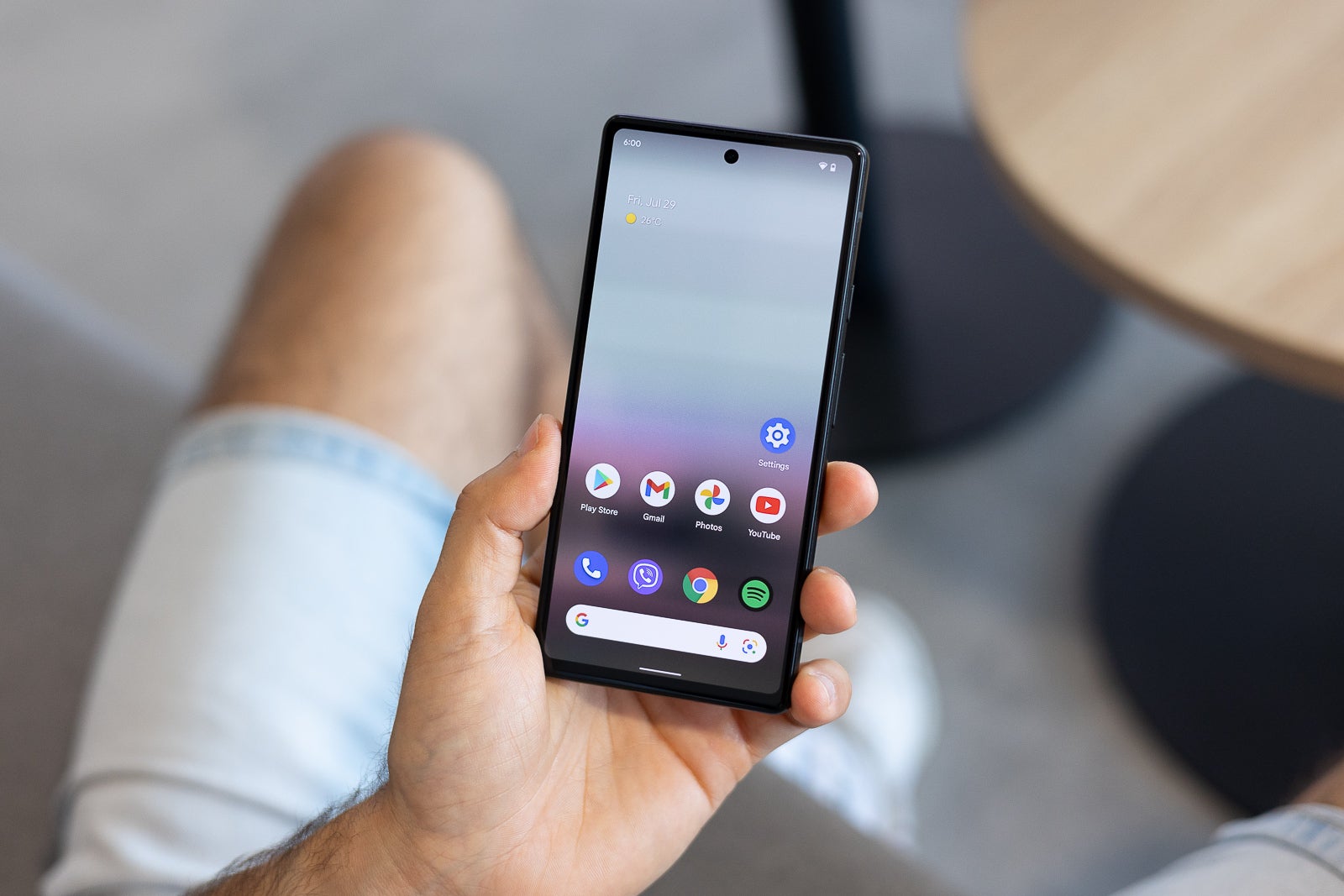 The Pixel 6a comes with a 6.1-inch OLED screen with a 60Hz refresh rate, and the slow refresh rate is definitely one of the big compromises Google made with this phone. Once you get used to a 90Hz or a 120Hz screen, you just appreciate the buttery smooth scrolling and a 60Hz screen as we have here looks choppy in comparison.
Another place where Google cut a corner is the cover glass for the screen as the Pixel uses the older Gorilla Glass 3 technology instead of the latest Victus edition that we see on flagships.
Despite all of that, the Pixel 6a has one considerable advantage over the flagship Pixel 6 series: the screen is much smaller and the device is way more compact. Some people will really appreciate that, us included.
Display Measurements:
A common issue with the Pixel 6 series was the stubborn fingerprint scanner, which requires a bit more force than your average phone and works less consistently. The Pixel 6a uses an optical fingerprint scanner and we cannot say the quality is much better. You have to press extra hard and long to unlock the phone, and we get the occasional misfire. Some Pixel 6a users reported that their fingerprint scanner is buggy and anyone could unlock the phone, a serious security problem, but we did not see that issue on our unit.
And in case you are wondering, face recognition is not available in any form on the 6a. 
Pixel 6a Camera
A dual rear camera system with that "Pixel look"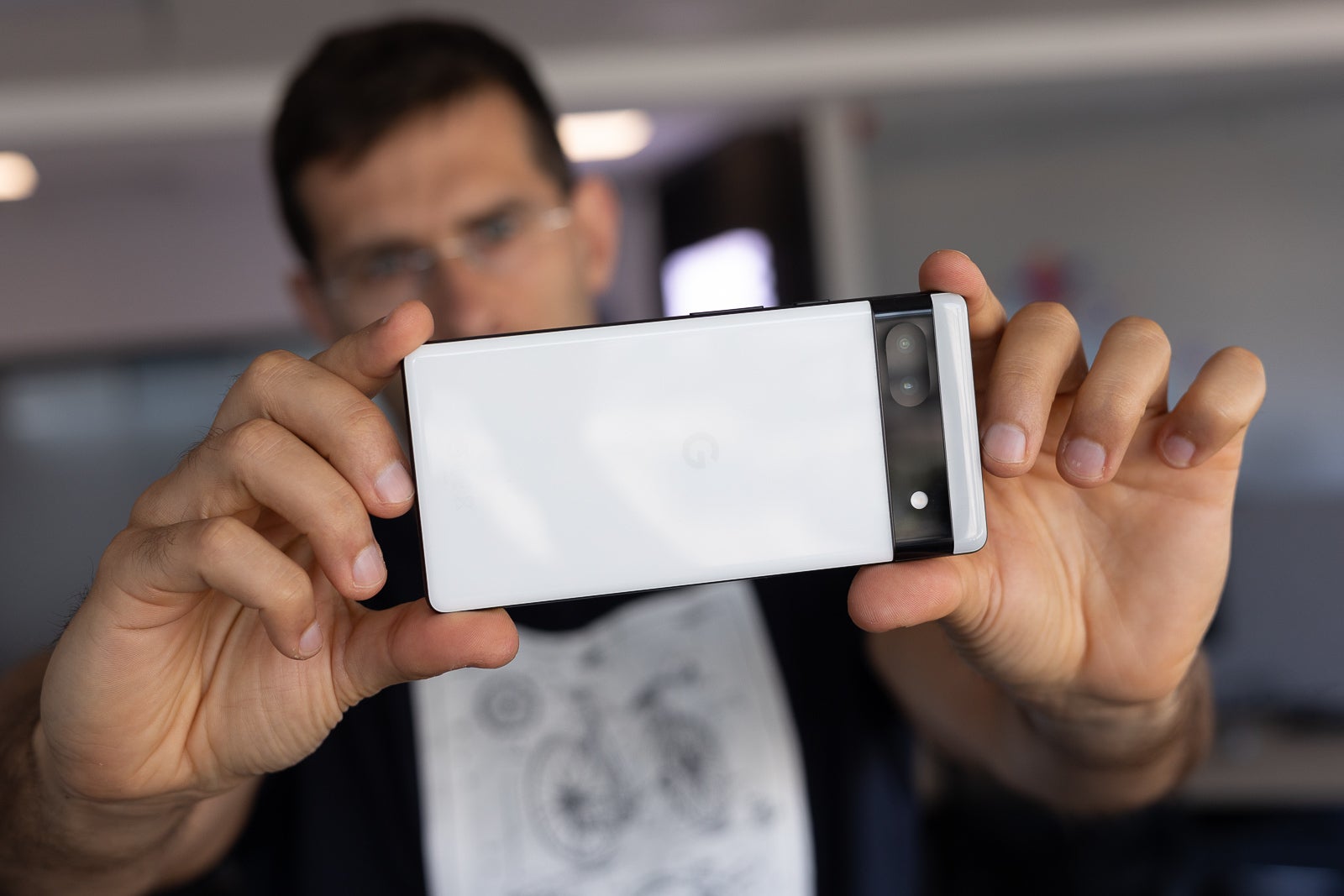 One of the big upgrades in the flagship Pixel 6 series was a new higher resolution 50MP sensor for the camera, while this here Pixel 6a sticks with the older 12MP sensor Pixels used before that. And just as you would expect on a device of this price, there is no dedicated zoom camera at all.
Here is the camera setup on the Pixel 6a:
12MP wide camera, f/1.7 aperture
12MP ultra-wide camera, f/2.2 aperture
8MP front camera, f/2.0
The first thing that strikes us when using the Pixel 6a is how much faster it is at processing photos. Last year's Pixel 5a would often take a few long moments to process a picture, while thanks to the much faster Tensor chip used in the Pixel 6a that waiting time is reduced by a lot.
And you still get most of the cool tricks from the flagships. For example, the Magic Eraser function works just as well on the Pixel 6a as it does on the flagship Pixel 6. 
You also get the incredibly cool Face Unblur feature that works under the scenes to ensure you get a sharp photo of say your moving toddler.
The one missing feature is Motion Mode, which would add long exposure-like effects, and while we found it cool, we don't really consider it all that essential.
Photos come out with the familiar HDR-y Pixel look. The novelty has kind of worn off by now and other phones have caught up with HDR technology, but we still find photos here looking very good and if you ask us, at this mid-range price the Pixel 6a has one of the best cameras around.
Selfies also turn out really well, we like the dynamic range, the colors and the wide field of view.
You have a slight crop (around 1.3X) when you record video, and it is the same crop for 1080p and 4K footage. Video quality is very good, especially for this price.
A newly added superpower on the Pixel 6a is HDR video recording even at 4K60 resolution. The difference is subtle compared to the Pixel 5a, but we've noticed how HDR videos stand out a lot more on social media, so it's great that you have that option.
Pixel 6a Performance & Benchmarks
Google Tensor blows (most of the) competition out the water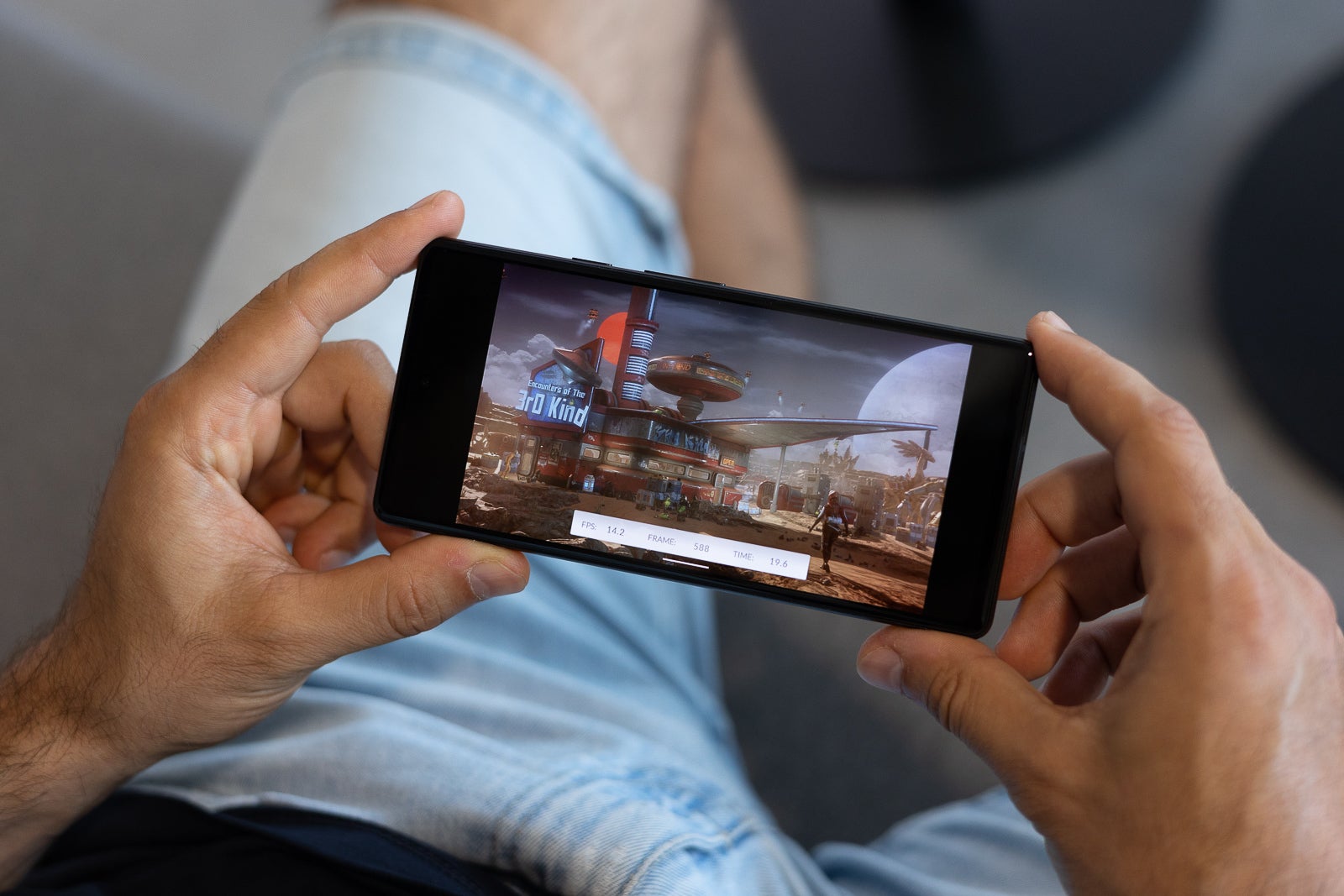 The Google Tensor Gen1 chip that we have here might not be quite as fast as the Apple A15 Bionic used in the current iPhone SE model, but that phone deliberately makes quite a few compromises with screen quality to have that faster processor. We feel that Google really made a power move by including this flagship-grade chip in the mid-range Pixel 6a.
It's clearly much faster than the Android competition and helps the 6a easily stand out in that crowd. It's a device that feels fast and is much more likely to remain fast for years to come with this chip. You get 6GB of RAM, which may sound a bit limiting, but we found it mostly works out fine and you probably won't notice apps closing on unexpectedly while you multitask.
Performance Benchmarks:
For gamers, this chip is good news, but we have to warn you that we noticed the phone is a bit more prone to overheating than usual. Spend more than 15-20 minutes in a resource-intense game like Genshin Impact or even Diablo Immortal and chances are you will notice the phone getting uncomfortably hot.
Finally, we love that Google includes 128GB of native storage here. The 6a does not have a microSD card slot, but 128 gigs of storage should please most users.
Pixel 6a Connectivity
The Pixel 6a actually comes in two versions: an unlocked $450 model that you can use on carriers like T-Mobile and AT&T, and then a Verizon-specific version that has mmWave 5G support and costs a bit more at $500.
The unlocked model that most people will buy has support for T-Mobile's n41 and n71 5G bands, as well as AT&T's n5, n48, n66 and n77 5G bands. This means you get support for the important mid-band 5G spectrum, so you will get the full benefit of the C-bands that make T-Mobile the impressive 5G performer that it is. You won't get mmWave on AT&T, but we doubt this will disappoint too many people considering the limited coverage of the technology.
The Pixel 6a has Wi-Fi 6, a connectivity feature rarely found in mid-range phones and this is good news as it is able to eke out faster speeds out of existing Wi-Fi connections and get coverage a bit better Wi-Fi coverage compared to devices like the Galaxy A53 5G which only has Wi-Fi 5 connectivity.
The 6a also features the newer Bluetooth 5.2 standard that should provide a better connection, plus you have NFC on board for Google Pay.
Pixel 6a Android version and software updates
Having a Pixel comes with the benefit of squeaky clean versions of Android made in the way the creator, Google itself, envisions the operating system.
This is mostly a good thing, but if you want the maximum feature-set, a Samsung phone might have a few extra features that you won't find here.
With Live Wallpapers, a very informative lock screen with live weather information, as well as the customization options of Android 12, the Pixel 6a is a pleasure to use.
When it comes to software updates, the Pixel 6a will get three major Android updates, and an impressive five years of security updates. Don't forget that updates on Pixel phones come the moment Google releases the new software, while other phone makers take a few long months before delivering updates, so the Pixel 6a is looking good. Not quite iPhone good with Apple's 5-6 years of major updates, but better than most Android phones out there.
Pixel 6a Battery
Solid battery life, but not extraordinary by any means
The Pixel 6a is equipped with a 4,410mAh battery, a good size for such a compact phone.
However, it has big shoes to fill as last year's Pixel 5a was an absolute battery champion that would routinely last us a day and a half with average use and even up to two days between charges.
The Pixel 6a is a good battery performer, but not quite to the level of its predecessor. It lasted us through days with even heavier use, and we could stretch it to a day and a half occasionally. You also have the Adaptive Battery feature in Android 12 that should help polish the rough edges of your battery use over time and the Extreme Battery Saver feature which pauses most apps and slows the phone CPU down to eke out longer battery life.
PhoneArena Battery Test Results:
All our tests are performed at the same brightness level on all phones to ensure an equal playing field. Our YouTube test has all phones running the same set of videos and if you watch a lot of video, this number will be the most important one for you.
Pixel 6a Charging Speeds
Charging speeds can get crazy these days, but that is not the case on the Pixel 6a. The phone only supports 18W wired charging, which is a bit slower than iPhones and Galaxies.
Also, there is no wireless charging support at all. Those used to the convenience of wireless charging might be disappointed, but that's one compromise for the lower price.
Pixel 6a Audio Quality and Haptics
As most phones these days, the Pixel 6a comes with a dual speaker system consisting of a bottom-firing "main" speaker and a secondary speaker located in the earpiece. They don't get quite as boomy as iPhones, but compared to other mid-range phones, here sound does not get distorted at even maximum levels, which we were obviously happy with. 
As we've already mentioned, there is no 3.5mm headphone jack on the 6a. Such are the times, but we are still going to miss the convenience.
We had no issues with call quality, with maybe one slight complaint would be that sound was a tiny bit quieter on our end, even at max volume.
We were also pleasantly surprised to find the Pixel 6a has the tight, sharp haptic feedback we usually see on more expensive phones. You feel it at every tap on the keyboard, so details like this one really matter.
Pixel 6a Competitors
There are two big names in the mid-range segment which the Pixel 6a occupies with its $450 price.
The immediate rival at the same price is Samsung's Galaxy A53 5G, which stands out with a larger and higher-quality screen with fast 120Hz refresh rate that you don't have on the Pixel. The Galaxy is a good phone with longer software support (4 years vs 3yrs on the Pixel), but we feel that the slower chip brings an occasional stutter that you don't have on the Pixel, plus we'd take the camera of the Pixel over that on the Galaxy.
The other big player in the sub-$500 space is the Apple iPhone SE 3rd gen. We were impressed with the fast Google Tensor chip inside the Pixel, but the A15 Bionic in the iPhone is a different beast with even zippier performance. Unfortunately, the 4.7-inch screen is of the older LCD kind on the iPhone and it just might physically be too small for our increased smartphone appetite. It also lacks an ultra-wide camera and the main camera does not have a night mode, even if it performs extremely well during the day.
Pixel 6a Summary and final verdict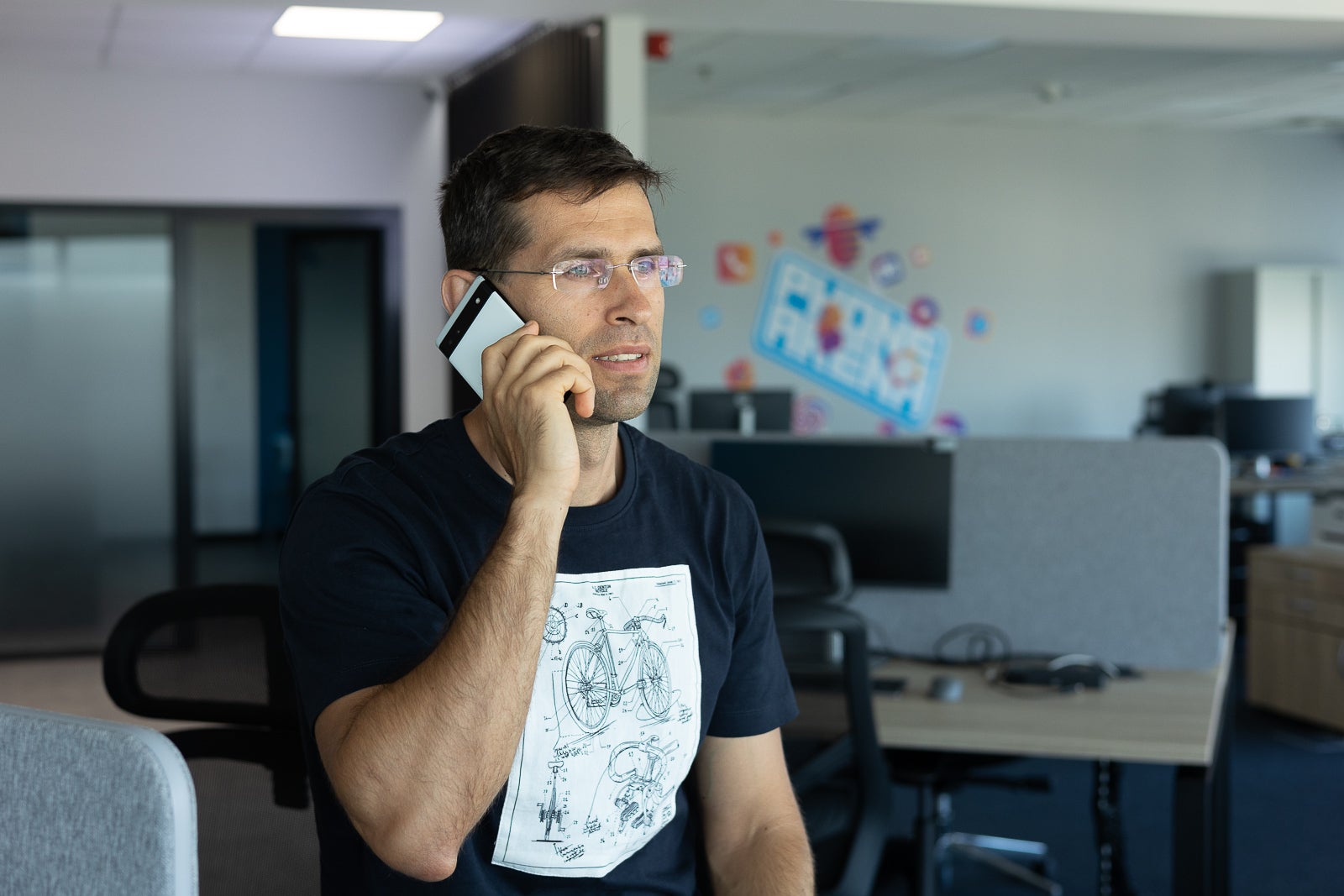 At the end of the day, with the Pixel 6a Google has followed a different path than most Android phone makers. Instead of equipping it with a mid-range chip and maxing out the display or focusing on some gimmicky feature, it has given the phone a flagship-grade Tensor processor that ensures a fast performance that you rarely find in this price class.
This is a winning recipe in our opinion, or at least the lesser of evils considering that you need to make some compromise in a budget phone.
The Pixel 6a does lack some features that you see on flagships like the zoom camera, wireless charging, and it is made of plastic. Biggest among these compromises in our opinion has got to be the lack of a fast refresh rate, but those compromises are not nearly as bad as what most other budget phones make.
At the end of the day, we would gladly recommend the Pixel 6a to everyone who would appreciate a more compact phone and wants to save a few bucks, but with one caveat: Pixel phones seem to have a reputation for bugs and issues that appear down the road and can slow down the phones. We've seen that way too many times before. We hope the Pixel 6a is not one of those phones, but if you can live with that risk, definitely consider the 6a. In the words of one popular YouTuber, this phone is a "major go".