At a glance
Expert's Rating
Pros
Great battery life
Considered design
Cons
Poor performance
Bad cameras
Low onboard RAM/storage
Slow charging
Our Verdict
The Poco C40 has a decent screen, excellent battery life and is a very affordable smartphone. Sadly, the performance is underwhelming and the cameras really don't impress. Sure, you can save yourself some money by buying this phone, but I feel the compromises may make it seem like you still overpaid.
Best Prices Today: Poco C40
Poco has been responsible for some of our favourites low-cost devices, and with the arrival of the new C40 the company is once again vying to be the best of the budget brands. So, does the new smartphone stand up to its distinguished stablemates?
Design & Build
Basic but tidy design
IP52 rating
Headphone jack
Dual SIM (not 5G) and microSD card support
As you might expect at this price point, the Poco C40 features a pretty basic build. The front panel is dominated by the 6.71in display that also features a centered tear-drop hole for the camera.
The back and sides are a textured plastic that gives the device a kind of faux-leather appearance. It doesn't look too bad and actually provides some welcome grip, rather than the slippy, smooth surfaces of most modern phones.
The right flank is home to the power and volume buttons while on the left you'll find the SIM tray which can accommodate not only two different SIM cards (although neither are 5G) but also a micro SD card to expand the internal storage.
Foundry
The top edge is home to a 3.5 mm headphone Jack, another feature which is becoming a rarity these days, and sounds emanate from the single speaker on the lower edge positioned next to the USB-C charging port.
There are no fancy, raised camera bumps or other such affectations on the Poco C40, instead the upper third of the rear panel this home to a camera array that seems to feature four lenses but it's actually two, joined by the flash and a decorative circle with the letters AI inside.
Just below this is the fingerprint sensor, which while a nice (and rare these days) addition is located quite high up and not exactly the easiest or most comfortable to reach. It does work quite well but requires a bit of a stretch.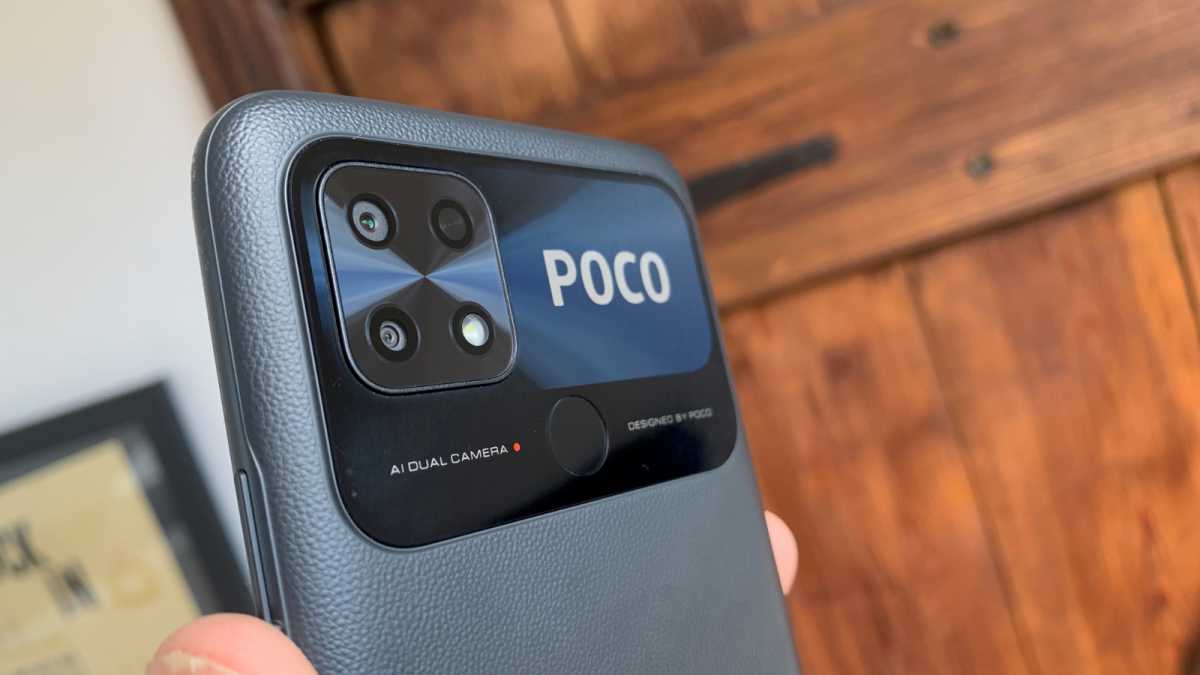 Foundry
In the hand, the C40 is reasonably comfortable, with the 170 x 77 x 9mm dimensions making it a little more chunky and taller than siblings like the Poco F4 and Poco X4 GT; but the 204g weight is around the norm for budget and mid-range units in 2022.
Surprisingly, Poco has included a waterproof rating for the C40, albeit an IP52 one. This means the device should be safe to use in light rain, but it won't survive any dips or heavy spills and certainly not submersion.
The Poco C40 comes in three different colours – Power Black, Coral Green and Poco Yellow -so you're not stuck with a plain dark colour just because you want to spend a little less on a phone. In the box there's the phone itself, a 10W charger, USB-C cable and the SIM removal tool, so you're all good to go from the minute you get the device home.
Screen & Speakers
6.71in HD+ IPS display
Corning Gorilla Glass
Single speaker
At this price point, you wouldn't necessarily expect to see an OLED display (though the similarly priced Poco M4 Pro has one), and Poco doesn't pull any rabbits out of the hat with the C40. Instead, there's a 6.71in IPS display running at a resolution of 1650×720, making it an HD+ panel.
Colour representation is decent enough, although at times things can seem slightly washed out. Brightness is more of an issue, with the C40 maxing out at around 350 nits, which while fine for indoor use isn't enough to clearly see the display when out in the sunshine.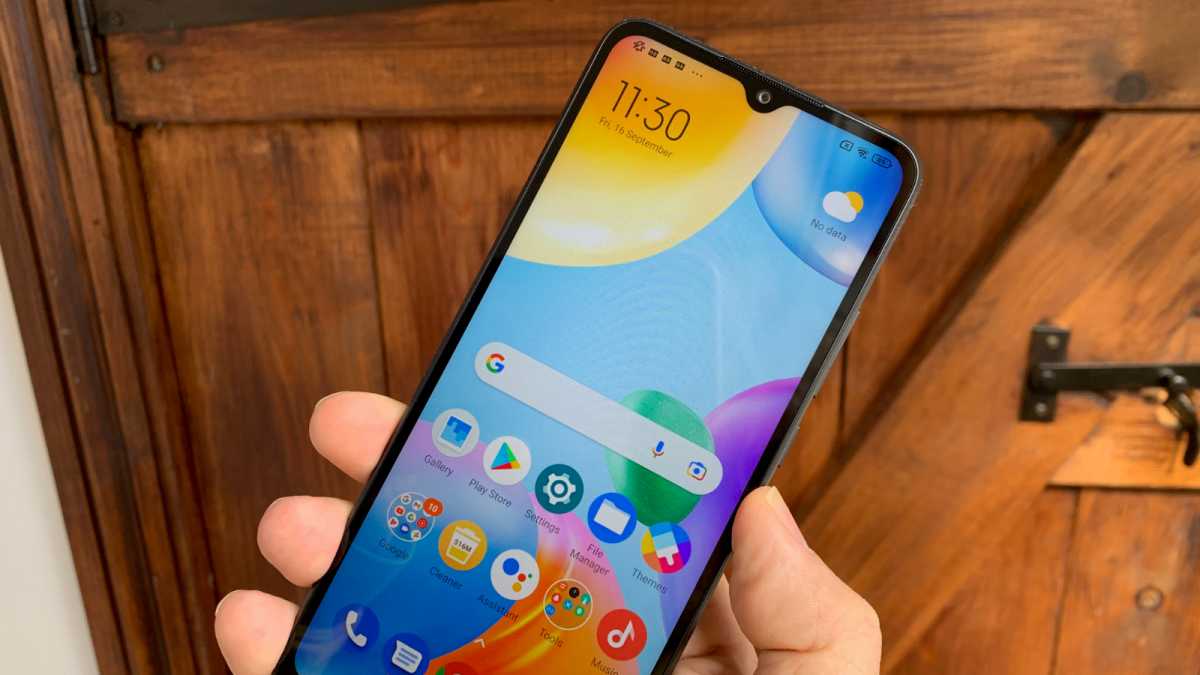 Foundry
Off-angle viewing is average at best, with the panel darkening as soon as you start to turn the handset. So long as you're indoors or the sun isn't beaming down then the C40 has a perfectly usable display; just be aware of its limitations.
One plus point is that the panel is protected by Corning Gorilla Glass. Poco doesn't state which version, but the fact that it's there at all is a bonus at this price. There are also no clues as to the refresh rate on the display, leading me to think that this must be a 60Hz panel, again pretty standard for a budget model.
The single speaker does a surprisingly good job at putting out a hefty bit of audio volume. While the treble and upper mids all come through well, the phone can't overcome the laws of physics and therefore the bass frequencies pretty much disappear.
But, while some cheaper phones sound tinny and unpleasant the C40 manages to avoid this, particularly for spoken word content like podcasts. Music sounds ok unless you're into styles that are bass-heavy. Of course, the 3.5mm headphone jack means you can always plug in some decent wired headphones if you want to reclaim the low end.
Specs & Performance
2GHz JLQ JR510 processor
Up to 4GB RAM
Up to 64GB storage
Stuttering performance
At the heart of the Poco C40 you'll find a 2GHz JR510 processor from JLQ. Yep, I'd not heard of it either. While we've grown used to seeing the likes of MediaTek and Qualcomm supplying processors for smartphones, it seems they're not the only game in town.
JLQ Technology is a Shanghai-based semiconductor manufacturer that's been around for a few years, and it now looks like it has designs on the smartphone market.
The JR510 processor itself is comprised of four ARM A55 2GHz cores and four ARM A55 1.5GHz cores, aided by an ARM Mali G52 GPU. While on paper this looks respectable enough, performance from the C40 suggests that some work still needs to be done if JLQ hopes to topple Qualcomm et al.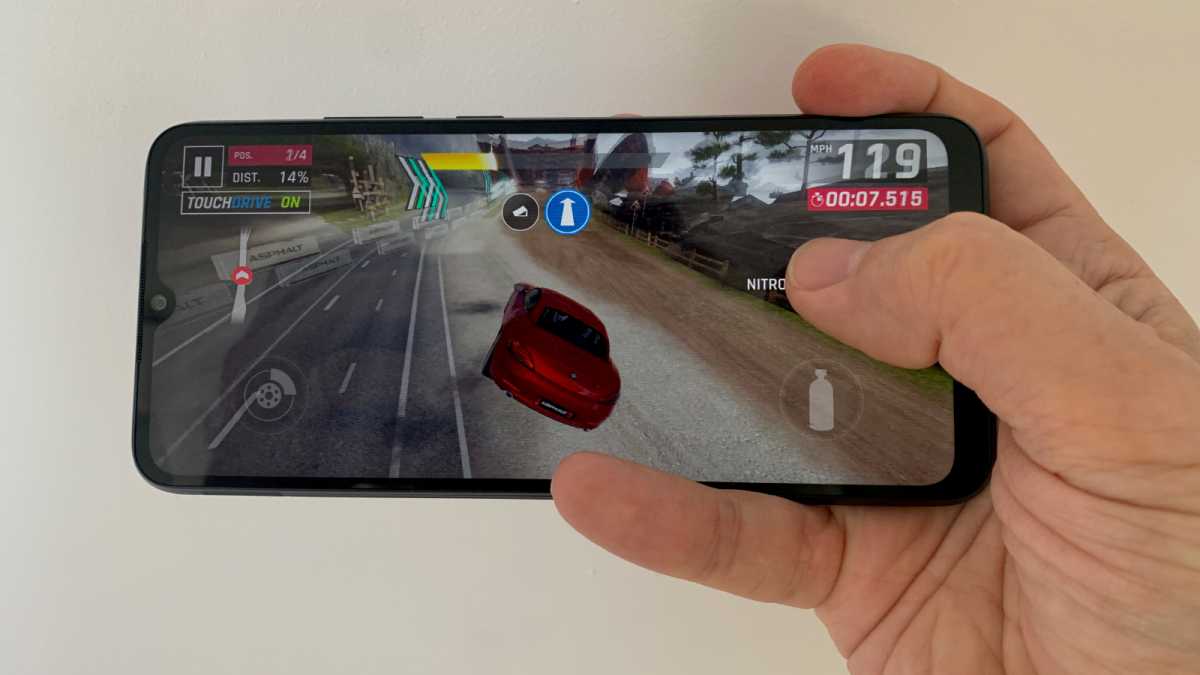 Foundry
Day-to-day duties come with a certain amount of lag and stuttering. On several occasions, apps took just too long to load and I also experienced several crashes that closed the apps completely. That's not to say that the phone can't cope period, just that the performance is somewhat hit and miss even for a budget device. Scrolling feels quite jagged with the sensation that the page can't quite keep up with your fingers.
I certainly don't expect top-level speeds from a device with this price tag, but the overall sensation of slow responses does make the C40 annoying enough to make me wonder how it will fare after a few months of use.
Gaming is possible on the device, but I did find the standard tests on Asphalt 9 resulted in choppy performance. Running our normal set of benchmarks gave the scores below which are among some of the lowest I've seen from recent budget devices, only just squeezing out the TCL 30+.
This stumbling performance is no doubt also affected by the 4GB of RAM on my review sample. Again, the tight budget for producing a phone like this means you'll often find restrictions such as small RAM allocations, but this can feel something of a false economy as it directly impacts the way the device handles tasks.
Poco does offer an even cheaper variant which contains 3GB or RAM, although judging by how my device struggles, I wouldn't recommend the small amount you'd save on cost when compared to the experience you'll most likely receive.
Storage is also minimal with only 64GB available, some of which will already be taken up by the operating system and pre-installed apps. Thankfully this can be rectified by using a microSD card, as the Poco C40 supports ones up to 1TB in capacity. Again, the cheaper model also cuts the internal storage available in half, so there's really no point in even considering that particular option.
You do get NFC, Bluetooth 5, Wi-Fi 5, GPS and even an FM radio built-in, so you can use the Poco to easily make wireless payments, connect to speakers and enjoy a spot of music on the go.
Cameras
13Mp f/2.2 main
2Mp f/2.4 depth
5Mp f/2.2 selfie
There's a dual camera system on the rear of the Poco C40, made-up of a 13Mp f/2.2 main shooter and 2Mp f/2.4 depth sensor. Obviously, the latter is only really for helping with portrait shots, so the main camera does all the heavy lifting.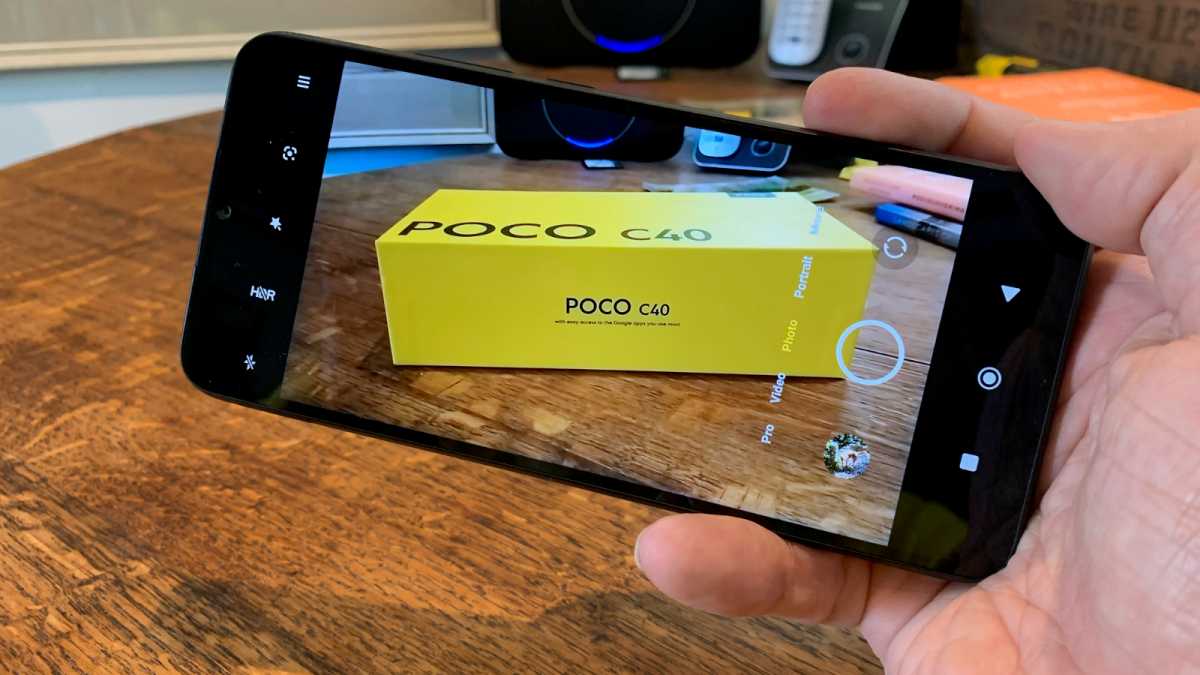 Foundry
Performance is disappointing. Scenes with bright lights see those parts of the image blown-out, while colours are often flat and uninspiring. Some photos seem to have been treated to aggressive over-sharpening, while others miss the selected focus point entirely. You can get nice shots with the C40, but I wouldn't feel secure relying on the camera to capture anything important.
Take away a good light source and things get rather noisy. I did manage to get some half-decent images when using the night mode while leaning the phone on a wall to keep it steady, but even here there was still plenty of noise, focusing issues and flattening of colours.
The 5Mp f/2.2 front camera will give you selfies that you can share on social media sites, but again they're adequate at best. You can see the various photos the Poco C40 produced in the gallery below:
Video tops out at 1080p/30fps, which is perfectly acceptable for this kind of phone. Performance is on par with the still images. The focusing can be soft or over-sharpened, exposure somewhat unbalanced and, due to there being no OIS (optical image stabilisation), there's a fair amount of jerkiness.
The results are pretty common for a phone in this price bracket, which generally fails to impress.
Battery Life & Charging
6,000mAh battery
Long battery life
Slow charging times
Where some of the other specs underwhelm, at least there's a stonking great battery in the C40. Poco fits a huge 6000mAh cell with support for 18W fast charging, although the included charger is only a 10W model.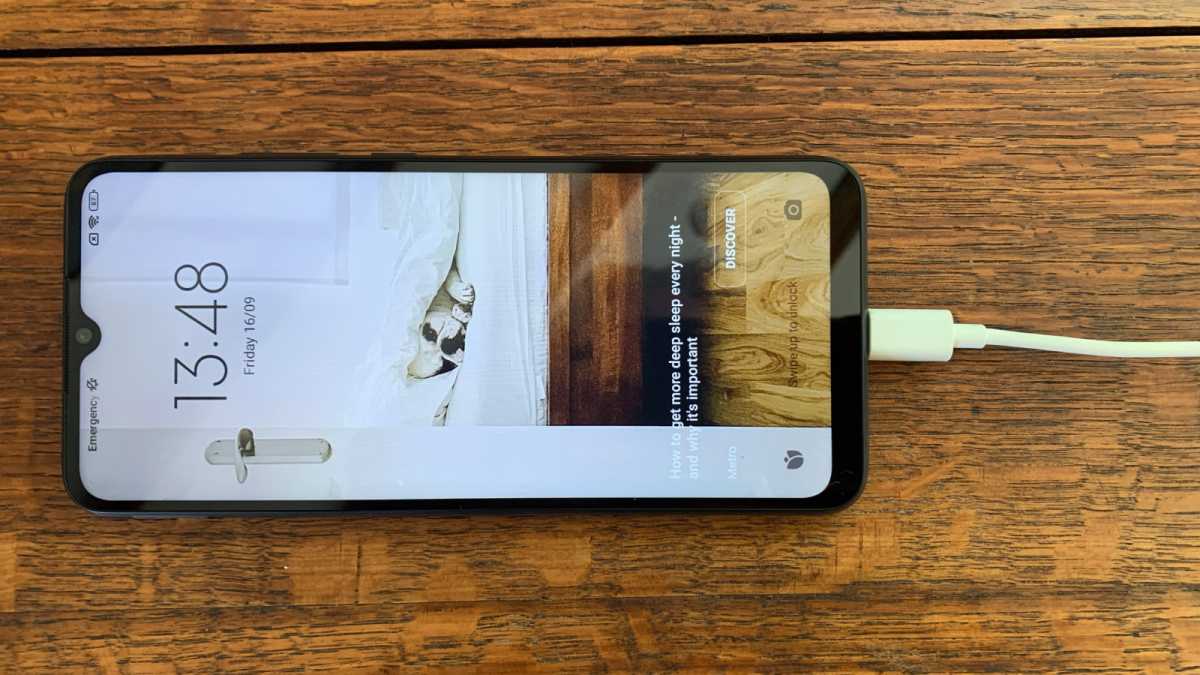 Foundry
As you can imagine, the device will happily get you through a full day without issue and leave a fair bit of power for a second day too. I regularly found the battery would get me to about lunchtime on day two before I needed to consider plugging it in once more. Putting it through the PCMark power drain test returned the impressive time of 19 hours and 47 minutes of run time before the battery died.
Charging isn't quite as good, with the included 10W charger getting the device up to 19% of power after being plugged in for half an hour.  To get back to 100% you're looking at around 2 and a half hours, so it's pretty slow.
In fairness, it does have a large cell to replenish, which should be taken into consideration but it would be a lot better if Poco included a charger to match the speed the phone can manage.
Software & Apps
Android 11
MIUI 13
Plenty of bloatware
You don't always expect the latest software to appear at the budget end of the market, and this proves true with the Poco C40. Android 11 is the order of the day, overlayed with MIUI 13. If Xiaomi (Poco's parent company) sticks to its normal pattern, this means the C40 should reach at least Android 13 before the software support ends, with security updates expected for three years.
Foundry
The interface itself is quite pleasant to use, with the normal swipes and gestures from Android making it into MIUI. There is quite a bit of junk in terms of pre-loaded apps though, so you'll need to spend time at the start getting rid of them, especially with the limited onboard storage.
Themes allow you to customise the layout and aesthetics of the software (all via the Theme store), plus there's a healthy selection of wallpapers available for the same purposes. It's nothing revolutionary, but if you've used a Xiaomi or Poco phone before, then it will all be very familiar.
Price & Availability
At the time of writing the Poco C40 tested here is available in Europe for €189.90, with the 3GB/32GB model also on offer for €169.90. We expect a UK release too, but so far we've not had confirmation on a date or price. If the cost is a simple case of currency conversion, you could potentially buy the 4GB/64GB model for around £199 (factoring in VAT) and £175 for the lower spec version.
These are decent prices for a smartphone, but with the Poco C40 bearing a few too many compromises in performance, I'd suggest looking at alternatives like the Poco M4 Pro which boasts a better camera for around the same price, the Realme C35 which packs plenty into its £149 price tag, or even last year's Poco X3 Pro which can often be found at a discount on the Xiaomi store.
Check out our chart of the best budget phones to see all your top options right now.
Verdict
It's not easy to build a cheap smartphone. Customers today demand decent performance, good cameras and reliability out of their devices, which makes the job of manufacturers that much more difficult.
In the past Poco has managed to walk this line very well, often impressing us with the devices it delivers. But, in this case, C40 can't join that pantheon. The stuttering and lag that occurs throughout even the most daily of duties, plus the poor cameras make this a phone that isn't enjoyable to use.
On the upside, the battery life is excellent and the screen itself is decent enough for a device that costs as much as this does. Such is the nature of low-cost smartphones these days, ironically with Poco as one of the main brands pushing up quality, the C40 just feels too cheap in areas where it really counts, even with that lowly price tag.
This is one to avoid but luckily Poco has plenty of other better models to choose from.
Specs
Android 11 with MIUI 13
6.71in IPS HD+ display with Corning Gorilla Glass
2GHz JLQ JR510 processor
4GB of RAM
64GB internal Storage (expandable by up to 1TB via microSD)
13Mp f/2.2 main camera
2Mp f/2.4 depth camera
5Mp f/2.2 selfie camera
Rear fingerprint sensor
GPS
NFC
Bluetooth 5
Wi-Fi 5
4G LTE (supports dual SIMS)
Mono speaker
3.5mm headphone jack
USB-C charging port (18W)
6000mAh battery
10W charger supplied
IP52 water resistance rating
170mm x 77mm x 9mm
204g